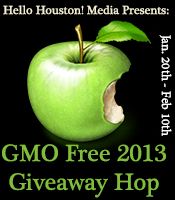 Welcome to the GMO Free 2013 Giveaway Hop, hosted by Real Houston Housewife and Hello Houston! Media. To introduce our readers to new GMO Free options in 2013, members of the Hello Houston! Media Blogger Team have come together to offer giveaways of their favorite GMO Free products. After entering my giveaway below, please visit the other blogs listed under the Rafflecopter form to find the rest of the GMO Free giveaways!
Here on Eco-Crazy Mom we're giving away an Annie's GMO FREE Super Bowl Prize Pack!
($48.00 Value)
One lucky winner will receive…
(2) Annie's Organic Shells & White Cheddar
(2) Annie's Cheddar Bunnies
(1) Annie's Organic Pretzel Bunnies
(1) Annie's Organic Honey Wheat Pretzel Bunnies
(2) Annie's Organic Cheddar Snack Mix
(1) Annie's Organic Bunny Berry Patch Fruit Snacks
(1) Annie's Organic Summer Strawberry Fruit Snacks
(1) Coupon for a FREE Annie's Organic Rising Crust Frozen Pizza
Annie Withey co-founded Annie's Homegrown, Inc. with Andrew Martin in 1989 with the goal of giving families healthy and delicious macaroni and cheese and to show by example that a successful business can also be socially responsible. Initially, the company sold natural macaroni and cheese dinners to regional supermarkets and independent natural retailers in New England. More than 20 years after the company's founding, our original values still guide our business. Annie Withey remains involved in the business, writing the personal letters printed on the back of our boxes and responding to letters from our consumers. The company remains a mission-driven business grounded in using natural and organic ingredients to make great-tasting products that consumers love.
Today, Annie lives on her certified organic farm in Connecticut with her husband and two daughters, where she grows a wide variety of vegetables and flowers for her local co-op and farmer's market.  She remains the inspiration and corporate conscience for the Annie's family of products.
 "For more than 20 years, Annie's has been nourishing families with simple, down-to-earth foods that taste great and are easy to love.  Annie's is driven by a team of folks who are passionate about food, people, and the planet we all share. That's why we've sought out the best ingredients Mother Earth has to offer, harvesting pure, natural flavors to make delicious foods every family can feel good about."
"Annie's works with suppliers we trust to source only non-GMO ingredients. We believe the best tasting food comes from simple, pure, natural and organic ingredients. We also believe that you have the right to know what's in your food. As a food company that strongly supports organic farming, we are firmly opposed to genetically engineered ingredients in any of our products and we believe that people should be able to make informed choices about what foods they eat. Annie's is taking several steps to help protect our food system against GMOs. We:
 Formulate, source and process our products using non-GMO ingredients.

Organic ingredients – by law, organic ingredients are grown and processed without GMOs
Natural ingredients – we require all suppliers to sign affidavits and provide documentation demonstrating that they can meet our non-GMO requirements; furthermore, for ingredients for which there are GMO equivalents in the market (e.g. soy, canola, corn, etc.), we pay a premium for identity preserved, non-GMO ingredients
Work with reputable, trusted suppliers to ensure that our ingredients are grown and processed without GMOs using methods such as segregation, traceability, risk assessment, identity preservation and quality control management.
Work with the Non-GMO Project, a non-profit organization that developed a standard to prevent GMO use and contamination, to validate our non-GMO status through third-party verification.
We advocate for tighter policy and regulations. For example, we jointly filed a petition with the FDA calling on them to label genetically engineered foods (Docket Number: FDA 2011-P-0723-0001/CP). Please see the letter that we sent separately to the FDA regarding our position.
We endorse Prop 37, the California ballot initiative to label food products made from genetically engineered ingredients, as well as Just Label It, the national labeling campaign."
 Enter To Win!
Be sure to visit Real Houston Housewife to enter to win one of the grand prizes, totaling over $400, sponsored by: Little Soya, Bob's Red Mill, Pure Indian Foods, Cultures For Health, Little Duck Organics, Amy's Kitchen, Alter Eco and Kurrenci
Disclosure:  Please note that Eco-Crazy Mom and the other GMO Free 2013 Giveaway bloggers are not responsible for sponsors that do not fulfill their prizes. We have represented each sponsor with the expectation they will fulfill their prize and in a timely manner. We will contact the sponsor regarding your prize(s). The sponsors, in most cases, are shipping their items to you directly. We will make every effort to assist you obtaining your prize. If there is an issue with a sponsor, please notify the blog you won a prize from within 4-6 weeks for assistance, after that we may be unable to assist you.
Terri
For more eco-crazy tips follow Eco-Crazy Mom on
Twitter
and
Facebook
. You can also
follow my blog
and
join my mailing list
to be the first to know about new posts, giveaways and the latest eco-crazy news!
Did you find this information interesting or helpful? Please help spread the word! Give this post a +1 or share it on your favorite social media site using the buttons below.