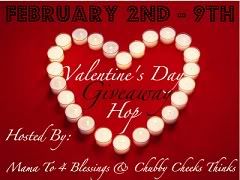 Mama to 4 Blessings
and
Chubby Cheeks Thinks
are teaming up to bring you the Valentine's Day Giveaway Hop! With 73
bloggers participating there will be a lot of great Valentine's giveaways! This is the perfect way to get something nice for yourself, your kids, or that someone special in your life. Valentine's Day is another great holiday of giving so we are all going to have a giveaway of at least $25 in prizes per winner and that is just the minimum. Some blogs will have more!
Eco-Crazy Mom has two awesome prize packages to giveaway, one for Mom and one for Baby!
Mommy Prize Pack
If there's one thing moms don't want to worry about on Valentine's Day it's our good friend "Aunt Flo", so I've teamed up with Be Prepared Period & Softcup to offer two fab prizes to make that "time of the month" worry free!
Be Prepared Period's mission is to reach as many girls, women and parents as possible – on a global scale, so that nobody feels alone, anguished, or confused when it comes to menstruation. This amazing website is an incredible resource offering…
• Specific areas for parents and other women to share their personal stories about puberty and menstruation, which can be the best way for young girls, women and parents to feel like they are not alone in their worries and struggles.
• The steady introduction of new products, many of which are organic and natural so parents, young girls and women can find the best products for them.
• Convenient monthly subscription offers for the delivery of feminine hygiene products which avoids 'embarrassing' trips to the store and ensures that all girls (of all ages) have what they need.
• Availability of gift certificates, which makes supplying a loved one with supplies discreet and easy.
• Blogs, Monthly Tweet Chats, Giveaways, and Savings all geared to empowerment and education.
Win A Lunette Cup From Be Prepared! ($39.99 Retail Value)
Over the past 70 years, a woman's choice for internal menstrual care has pretty much been limited to tampons. Wouldn't you like something better, something . . . nicer?
Now there is an alternative that is healthier for our bodies, our environment and our pocketbook — the Lunette menstrual cup.
Made in Finland, the Lunette menstrual cup is an easy-to-use, safe, and clean alternative to pads and tampons. Using a Lunette is similar to using a tampon but requires less changing. Made of medical-grade silicone, a non-friendly environment for bacteria, menstrual cups are simply washed and reused. Not to mention, menstrual cups create zero waste. That's nice!
What are you waiting for? Try a healthier alternative for handling your period that will not limit you or compromise the environment.  Go out there and live your life to the fullest – all month every month!
Win a Reusable Softcup 2-Pack & Softcup Purse Pack! ($12.18 Retail Value)
Don't let your period get you down this Valentine's Day, get a Reusable Softcup—you can wear it for up to 12 hours during any activity, including intercourse!  Softcup is comfortable; you can't even feel it once it's inserted. And with reusable Softcup, you can use, and reuse, just one Softcup per period, reducing menstrual waste by up to 95%!
Baby Prize Pack
Win a 

Hiney Lineys

 All In 3 Cloth Diaper! ($25.00 Retail Value)
This affordable diapering system can help you cloth diaper your baby from 12-35 pounds for just $278-$350!
Hiney Lineys
offers a 3 piece customizible cloth diaper that consists of a cover, a "liney" and either a prefold or insert that work synergistically to keep your baby comfortable and dry.  To learn more about this unique, affordable cloth diapering system
click here
!
Win

Fluff Bling

, The Hottest New Cloth Diaper Accessory! ($3.45 Retail Value)
Fluff Bling is the best bling for your baby's bottom! Fashionable embroidered snap on patches will give you a customized diaper any time. Snap one onto one of the unused snaps on your baby's diaper and you'll have a whole new look.  Collect them all and change it up!  
Winner will receive one Fluff Bling patch of their choice!
Eco Sprout is an environmentally friendly detergent that's great for your entire family. It's SAFE for cloth diapers and sensitive skin. This detergent is free from dyes, brighteners, enzymes, phosphates and is 100% biodegradable. Finally, a clean you can trust! Check out 'What makes Eco Sprout different?' to learn more.
Enter To Win Using The Easy Rafflecopter Form Below! There will be TWO winners, so be sure to specify in the mandatory entry which prize pack you'd like to win most!
Now Hop around and enter to win even more great prizes!
Terri
For more eco-crazy tips follow Eco-Crazy Mom on
Twitter
and
Facebook
. You can also
follow my blog
and
join my mailing list
to be the first to know about new posts, giveaways and the latest eco-crazy news!
Did you find this information interesting or helpful? Please help spread the word! Give this post a +1 or share it on your favorite social media site using the buttons below.